Retrofit your Highgate Home
Low carbon for the climate emergency
Globally the signs of climate breakdown are becoming more and more frequent and people are wanting to know how they can THINK GLOBAL, ACT LOCAL. Doing whatever you can to use as little heat as possible in your home, whilst keeping warm, is very important though understanding the options can be very difficult.
Who owns your home? How was it constructed? Is it in a Conservation Area? How much would it cost to do all the improvements possible? All important questions that should be answered by creating a plan for the whole house to tackle cold spots as money and circumstances allow.
The Highgate Society and Muswell Hill Sustainability Group arranged a talk on 12th Oct 2020 and Cara Jenkinsons slides are here:  Green Homes Grant. Josie Evetts of Ecofurb went through their services, explaining that all work must be conducted by a business accredited by TrustMark and MCS for solar. See here for TrustMark lists of businesses.
The Zoom attendees were promised a list of useful references and these are lower down. A warning was also given that there are crooks who are starting to call on people and offer help/services.  Please direct friends and neighbours to the Trustmark Green Homes Grant Site for eligible businesses.
A takeaway doc can be downloaded  as a Powerpoint or as jpgs below. (right click and choose save image)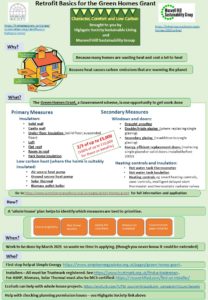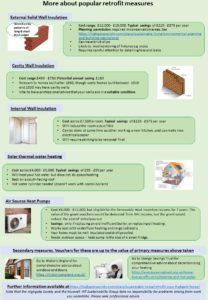 In the UK buildings are categorised by energy performance certificates (EPCs) where A is snug and G is horrible. This shows how far we have to go to move those D's to As!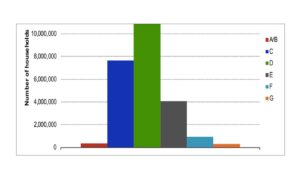 Those EPCs give rather an approximate view of measures that could be taken and the costs. Where there are several measures planned the role of retrofit co-ordinator has recently been created to do a bespoke, experienced plan and ensure that tradespeople can be trusted. Enquire about this to Eco-furb.
The London Building Stock Model (beta) has a helicopter view of London properties and likely energy efficiency measures based on EPCs here.  
See where your house loses heat with a Thermal camera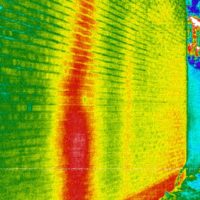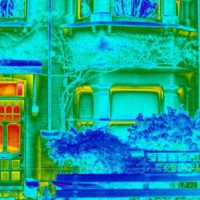 Transforming a house with low carbon measures
Chatting about a low carbon home in Tottenham
Note that some of these measures would require extra permissions in a Conservation Area. See Permissions for more information.
Disclaimer: The Highgate Society is an unincorporated association established for the public
benefit.  It endeavours to ensure that the information it provides as a free service is 
correct, but does not warrant that it is accurate or complete.  Nothing in its correspondence,
 or discussed verbally at any time with representatives of its Planning Group, constitutes 
professional or legal advice and may not be relied on as such.